In stock
IPSA The Time Reset Aqua Lotion 200ml
$65.99
IPSA The Time Reset Aqua 200ml Product Details This medicinal skin lotion creates layers of water* withholding moisture ingredients, conditions the texture of the skin and sustains a moist feeling just like being covered with water*. IPSA's unique moisturizing ingredient "Aqua Presenter III"** creates artificial layers of water* that retain…
Order in The Next

to get it by

January 25, 2022

Real Time

67

Visitor Right Now
Spend

$

33.00 to get Free Shipping

Guarantee Safe Checkout
SHIPPING
We offer FREE Standard Shipping on all U.S. merchandise orders $49 and over (excluding taxes). business days
For International shipment, we offer USPS (Priority) shipping services. Orders $199 and over will be shipped free of charge with USPS Priority. For Orders under $199 will be charge $29.99 shipping fee.
Usually the order will only take 3 days to be delivered if you were in the US
Orders received before 1:00 PM (Pacific Time) Monday-Friday will normally be processed the same day.
Orders received over the weekend and on major holidays will be processed the following business day.
Orders received on Friday by 1:00 PM (Pacific Time) selecting Priority/Overnight delivery will be delivered on Monday, barring unforeseen carrier delays.
See the delivery FAQs for details on shipping methods, costs and delivery times
RETURNS AND EXCHANGES
All returns must be postmarked within fourteen (14) days of the purchase date. All returned Items must be new and unused condition, undamaged and unopened in their original product packaging,with all original tags and labels attached.
See conditions and procedure in our return FAQs
Description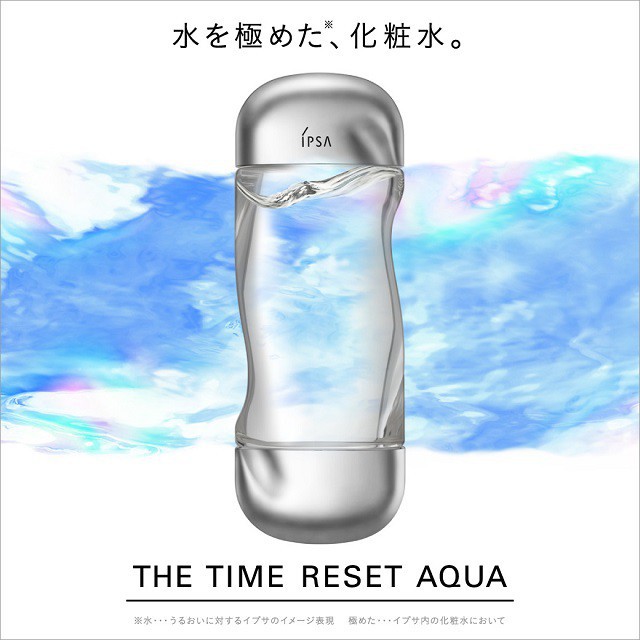 IPSA The Time Reset Aqua 200ml
Product Details
This medicinal skin lotion creates layers of water* withholding moisture ingredients, conditions the texture of the skin and sustains a moist feeling just like being covered with water*.
IPSA's unique moisturizing ingredient "Aqua Presenter III"** creates artificial layers of water* that retain moisturizing ingredients on the skin surface and hydrate the skin according to its level of dryness, so the skin stays moist with water*.
Furthermore, by being filled with water*, the skin is conditioned well with a good moisture balance that prevents it from becoming oily and effective ingredients prevent skin problems and adult acne.
Alcohol-free.
*Water…IPSA's expression on the image of moisture
Non-comedogenic-tested.
*Please note that this does not mean all users will not have pimples
**Moisturizing Aqua Presenter III: Sodium Acetylhyaluronate, Polyoxyethylene (14), Polyoxypropylene (7) Dimethyl ether, Polyoxyethylene (17) Polyoxypropylene (4) Dimethyl ether, 2-methacryloyloxy ethyl phosphorylcholine-butyl methacrylate copolymer
How to Use
1. After cleaning and toning, apply a small amount to the face. It can also be applied using a cotton pad to decrease the potential chilly feeling of the lotion.
2. Apply evenly to the face, then gently pat into the skin until it is fully absorbed.
3. Use greater amounts around visible pores and areas of higher sebum production, such as a T-zone.